Archives for the 'Sound' Category

Watch in HD at vimeo.
On the occasion of the first me Convention outside of SXSW, at the International Motor Show in Frankfurt, i was responsible for the live visuals for the Robert Johnson Theorie event with DJs Ata Macias and Roman Flügel.
(more…)

Three artworks of mine are part of the group exhibition "bits'n'bytes' at Galerie Martina Detterer in Frankfurt/Main.
Artists: Tintin Cooper, Florian Jenett, Karl Kliem, Marko Lehanka, Via Lewandowsky. (more…)
David Quiles Guillâ asked me to do a video for advertising the next Rojo Nova event on TV Cultura in Brasil. (more…)
See in HD at Vimeo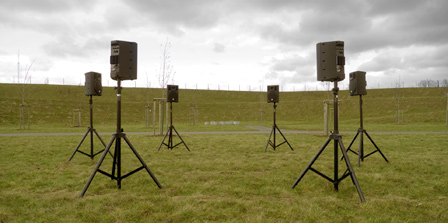 From April 9th to May 16th i will exhibit a 6 speaker surround sound installation with synchronized fluorescent tubes. Location: Hafen 2 Ausstellungsraum, Offenbach. Opening: April 9th, 8 PM.
(more…)

A work of mine is part of the Laptopia #5 sound exhibition at the Moby - Museum For Contemporary Art Bat-Yam (next to Tel-Aviv), Israel. The exhibition starts today on Jan 15th and ends on April 18th 2009.
(more…)
At this years International Manufactoring Trade Show (IMTS) from 6th till 13th of September in Chicago Marc Goulthorpe and his team are showing the Aegis Hyposurface. Dienststelle was commissioned to make a realtime sound interface for it.
Fades is a video installation by Carsten Nicolai which has been shown at Sonambiente 2006 in Berlin.
The mall "Das Schloss" had its opening on 15th of March in Berlin Steglitz. The huge ceiling of the Shopping Center features realtime animations of subjects like underwater, sky or cosmos. Dienststelle was asked to do sound design for these animations.
The MESO / Involving Systems Werkschau was our biggest exhibition so far. A lot of older works from Involving Systems and MESO as well as most of the Dienststelle Videos have been shown at the OK Centrum für Gegenwartskunst in Linz / Austria. (Download the PDF catalogue)