Archives for the 'Installation' Category

The RWE Rasterdeck triptych will be featured at the label launch and initial record release event "dizzy:white:cube" of Deafstar. (more…)
I finally uploaded a video of my Rasterdeck which i did about two years ago. See in HD at Vimeo
(more…)
See in HD at Vimeo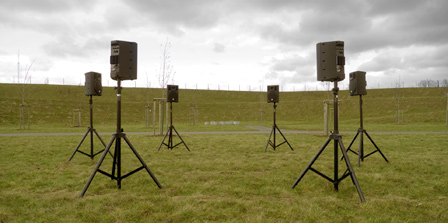 From April 9th to May 16th i will exhibit a 6 speaker surround sound installation with synchronized fluorescent tubes. Location: Hafen 2 Ausstellungsraum, Offenbach. Opening: April 9th, 8 PM.
(more…)

'VHF UHF' will be shown at the Pavillion in Frankfurt in the group exhibition 'Phasenverschiebung'. Opening is on Friday, August 21 at 6:30 pm.
(more…)

A work of mine is part of the Laptopia #5 sound exhibition at the Moby - Museum For Contemporary Art Bat-Yam (next to Tel-Aviv), Israel. The exhibition starts today on Jan 15th and ends on April 18th 2009.
(more…)

Seven of my Videos will be shown at the exhibition Vertrautes Terrain in Karlsruhe from 27.06. - 21.09.2008.
(more…)

Owing to the great demand RWE will be installed for one or two more weeks, at least till May 4th. (Actually it's because i have no time to demount it).
From April 4th till April 12th i will install a sound reactive installation at the Silbergold Club in Frankfurt. Jan Jelinek and i prepare a special concert for the installation. (more…)
At this years International Manufactoring Trade Show (IMTS) from 6th till 13th of September in Chicago Marc Goulthorpe and his team are showing the Aegis Hyposurface. Dienststelle was commissioned to make a realtime sound interface for it.
Fades is a video installation by Carsten Nicolai which has been shown at Sonambiente 2006 in Berlin.