I was invited to provide the visuals for the End-of-season party 2016 at Philharmonie Luxembourg on July 2nd.

My concept was to take photographs of various illuminants and lamps. On stage i would do a realtime frequency analysis of the audio signal, showing the lamps projected on three big screens and control the brightness of the lights by alphablending the photos. This worked out pretty well.
A week before the event it became evident that on the same evening the quarter final game of the European championship would be Germany vs. Italy. I made a proposal to somehow integrate the live coverage of the game with my visuals, if the Philharmonie could provide a satellite signal. They agreed and were happy, because some DJs also wanted to see the match on stage. In the end i overlayed the HD TV signal with a rotating white label photo of a vinyl record. This worked flawlessly with 60fps and even the hardcore football fans were pleased, as this didn't disturb too much from the game while adding an artistic note. An interesting observation: the football itself was almost never in the center of the screen, where the hole of the record is.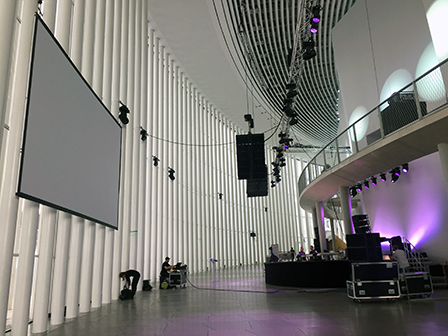 While trying to convince the light operator not to make a product demo of his lighting console, i.e. showing all colors and gobos that it could possibly provide, it became apparent that none of the mixed colors looked nice. White was a mess of seperate colors and it looked awful. So i asked for at least just primary colors and it was Bernhard Günther, the event organizer and Artistic Director of the Philharmonie, who suggested to stay just with plain red, green and blue.
Lineup:
Marcus Worgull, Mix Master Mike (Beastie Boys), Omar Souleyman (live), Âme (Innvervisions), Chook (Monophona, Fullforce)