The original electronic Robert Johnson beverages list is part of the exhibition 25 Jahre Kunst und Club: 1988-2013 Of/Ffm at Artspace Rhein-Main in Offenbach.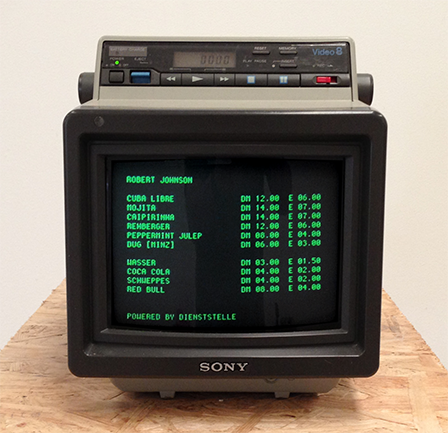 Ata Macias asked me in 1999 if i would like to make an electronic beverages list for his soon to be opened Robert Johnson Club in Offenbach. He talked about the CRT displays at the Frankfurt Airport showing arrivals and depatures and i immediately knew what he meant, as i was also a big fan of those. I was using similar green on black aesthetics with our Involving Systems installations at the time. The font i used was VT102, a terminal display font on OS9.
The first version was built with Macromedia Director. Ata dismantled an iMac and inserted the CRT perfectly justified inside one of the monolithic furniture modules behind the bar.
Some more versions of the beverages list followed over the years. The latest versions were all done with Max and the newest list is based on an editable text file. I kind of put myself out of the loop as the Robert Johnson staff can change the list by themselves now!
Patrick Raddatz, who co-organizes the exhibition with Anja Czioska at the Artspace Rhein-Main, asked me if i had something to show from the last 25 years related to club culture, so i chose this exhibit besides a photograph from Dieter Schwer of the Involving Systems 2.7 installation which was published in the book 'Discstyle' by Martin Pesch and Markus Weisbeck back in the day.