Mouse on Mars released their new album Parastrophics and asked me to provide the visuals for their international tour. Dienststelle delieverd the APACAV Automatic Parastrophics Album Cover Artwork Visualizer.

Mouse on Mars wanted projection mapping and they wanted the visuals to run automatically.
So i had to come up with a system that would be flexible enough for any kind of projector and different amounts of projection surfaces. It has to know which song is being played and when there is a break. It also needed to work independently of the volume levels during the concert.
I built a mockup out of cardboard so we would get an idea of the sizes. We finally decided for a maximum of six surfaces for projection mapping: The main screen above the heads of the band, the two tables where Jan Werner and Andi Toma are playing, Dodo NKishis bassdrum and two horn speakers.
The Parastrophics album cover shows some weird sketches drawn by a member of a religious american sect. So it seemed natural to use these drawings for the visuals. Featuring the album cover would hopefully also lead to increased album sales!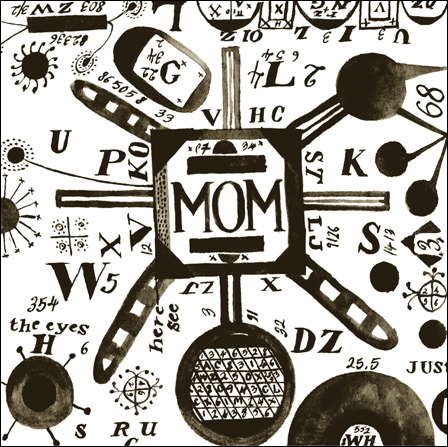 On Andis MacBook Pro we installed some Max4Live patches in Ableton Live. They analyse the frequencies and send information of the currently running track and sync signals to the visuals computer via ethernet.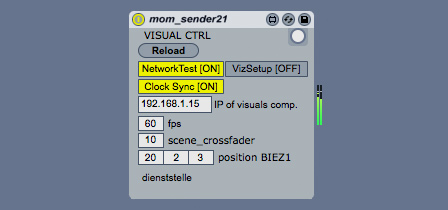 On the visuals computer a Max-MSP-Jitter patch randomly chooses details from the album cover and smashes them at the screens. Whenever a new graphic hits the screen the older ones will smear downwards and loose focus. Kind of like insects hitting a windshield.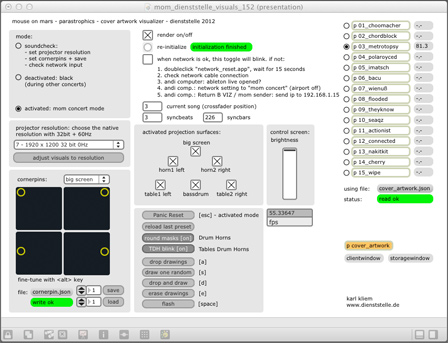 I chose to use the same concept thoughout the whole show not only, because dedicated visuals for each track would have been much more work, but also, because i think that the visuals should just endorse the music. They should not draw too much attention. Nevertheless there is an arc of suspense, as the visuals are getting more and more distorted thoughout the show.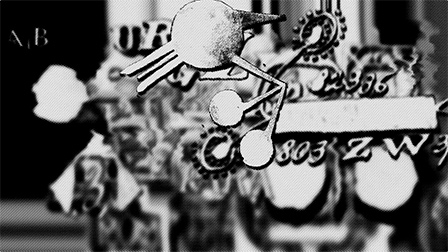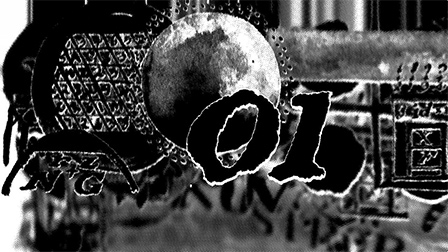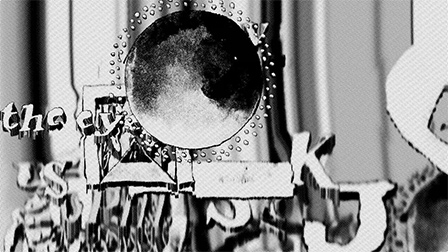 The visuals computer is a Mini-ITX with a powerful graphics card, which was necessary for a decent frame rate.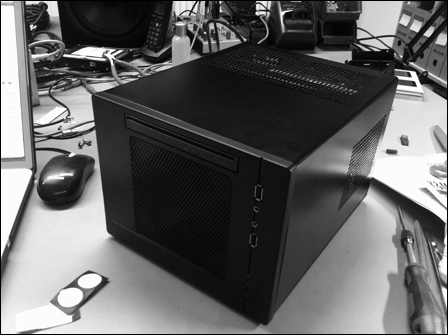 The vast amount of different displays at the venues is quite a headache. Projectors, LED-Walls, some have DVI, some only VGA. It took some time to match all aspect ratios and resolutions without distorting the images and masks.
Unfortunately, when the Ableton video of the Mouse on Mars show in the Columbiahalle was recorded, the sound input was distorted, so the visuals didn't react as they should. As this is a work in progress, i made a recording of the current state.
I uploaded the video with some short excerpts in minor quality on vimeo.
Navigation
Categories
Meta
Search
April 2012
M
T
W
T
F
S
S
« Nov
May »
1
2
3
4
5
6
7
8
9
10
11
12
13
14
15
16
17
18
19
20
21
22
23
24
25
26
27
28
29
30